First Team Attack Endura™ In Ground Adjustable Basketball Goal
Save

12

%
Save

12

%
Original price
$4,138.40
-
Original price
$4,138.40
The Attack Adjustable Basketball Goal offers infinite adjustability and maximum durability all rolled into one!
The Attack Goal's 4" square post is 3 / 16" thick. That's 50% heavier than any other goal in its category. The bolt down anchor system allows you to take the goal with you when you move.
Our EZ-Crank adjustment means players of any age, size or ability can change the rim height. To adjust, simply turn the crank handle. The Attack is infinitely adjustable from 10' down to 5'6". The rim height indicator shows the height of the rim.
First Team developed the "Spring Assist" which reduces the effort required to crank the goal. This is particularly beneficial for families with young children adjusting the unit.
First Team's Weatherguard uses a process called Ecoat on the steel prior to painting.  Weatherguard gives First Team basketball goals an impenetrable barrier against rain and humidity protecting the steel against rust.  Our Weatherguard treatment is vastly superior to other companies that claim to offer rust protection in the form of galvanization.  Weatherguard bonds to paint far better than galvanized steel with no fading or peeling.
We offer a large selection of backboards and rims with the Attack Adjustable Basketball Hoop so you can customize the unit to suit your needs and style of play. Our Response tempered glass backboards offer the same look and authentic ball rebound enjoyed by college and professional players.
For additional safety, pole padding and backboard padding are available for most Attack packages.
Attack II Adjustable Basketball Goal has a Lifetime Limited Warranty; all other Attack Adjustable Basketball Goal packages have a Lifetime Superior Warranty.
Features:
All First Team goals are direct mounted to eliminate backboard breakage when players hang on the rim

Optional bolt-on TuffGuard backboard padding available in several colors

Spring Assist makes goal adjustments effortless while rim height indicator shows exact height

EZ Crank allows infinite height adjustment from 10' to 5' 6"

Optional all-weather Velcro wrap-around post padding for added safety

Post to backboard extension distance is 36" with rim at 10'

Unique anchor system allows perfect pole leveling and easy pole removal if you move

Includes First Team's exclusive Weatherguard™ rustproof undercoat protection
About First Team Inc.
In 1996 Wayne Unruh and Jeff Roth co-founded First Team Sports, Inc. based in Hutchinson, Kansas.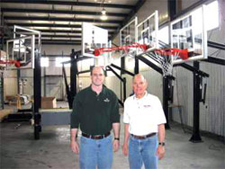 "At that time we were using my garage as warehousing and my basement as our first office", says Wayne Unruh, president of First Team. From there things took off for First Team, quickly becoming known as one of the finest manufacturers of outdoor and indoor basketball equipment in the country. In the beginning of 1997 First Team was moved to a more suitable location on Lorraine Avenue in Hutchinson. A large converted parking garage was renovated to provide the necessary space for backboard construction, packaging, warehousing and shipping. First Team's new home provided the opportunity for even stronger growth as First Team's reputation as a basketball manufacturer grew into other sports such as soccer and volleyball. In 2004, after seven years at Lorraine Avenue, space requirements led First Team to construct its own larger facility at 902 Corey Road in Hutchinson.
"The move to the new facility not only added the additional space we needed, it increased our efficiency because we were able to move all operations under one roof." - Wayne Unruh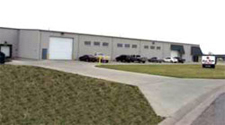 The new facility also affords First Team the surrounding area needed to focus on future growth. "Our new player benches and bleachers are examples of the continuing product development that contributes to the need for additional space at First Team", adds Unruh.
First Team is dedicated to domestic manufacturing. At First Team "MADE IN THE USA" is more than just a slogan, it's a way of ensuring quality. In an industry where more and more companies are shipping manufacturing jobs "offshore" First Team continues to provide jobs building high quality, affordable products, manufactured here in the USA.
"Our production workers are the best in the industry. Communication is the key and nobody does it better than First Team." - Jeff Roth
First Team's production workers are highly involved with engineering and sales staff allowing First Team to more efficiently implement product improvements, bring new products to market and react to customer needs. "It's nice to see your suggestions implemented. It shows First Team values its employees." -Danny Chambers
First Team distributes its products through its nationwide network of authorized dealers. The dealers are experts at directing customers to the right equipment for the job.
"They (First Team dealers) are well educated about our equipment and always eager to learn about new products we're introducing. Our dealers are our greatest assets. They are not only our dealers, they are our customers and we work tirelessly to support their efforts." - Wayne Unruh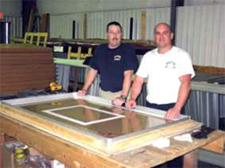 W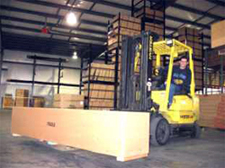 hen customers call First Team they expect to get questions answered quickly and have products shipped promptly. First Team strives to deliver on those expectations every time. Large inventories allow First Team to quickly fill customers' orders. "If a customer needs it shipped the same day, we can usually come through for them" says shipping manager Eric Bontrager. First Team's friendly, knowledgeable customer service staff is unrivaled in the industry. Their extensive experience in the sporting goods market means customer service personnel at First Team are able to do more than just take orders, they are problem-solvers.
"We're always looking for new ways to meet the needs of our customers no matter how unique or challenging they may be." – Kerry Reimer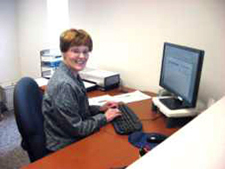 First Team's dedication to quality assurance, commitment to MADE IN THE USA, fast and friendly customer service and network of over 1000 dealers nationwide, are the cornerstones of First Team's widespread growth across all sports categories. Join the thousands of athletic directors, coaches, facility directors, equipment managers and homeowners who trust First Team to provide the safest, most durable and dependable products available every time. Call today and let First Team's friendly, courteous customer service staff show you why First Team is number one in innovation and customer satisfaction before, during and after the sale!
First Team FAQs
Q: Should I purchase an "adjustable" or "fixed-height" basketball system?
A: If the basketball system will be used by younger players varying in age, an "adjustable" unit is a must. Only an adjustable goal system will adequately accommodate a variety of age groups. An adjustable goal system may also be desired by players who enjoy lowering the basket to dunk. If various goal height adjustments are not necessary, a "fixed-height" goal is the best choice. Most often this is the case when players are old enough to compete strictly at the regulation 10' goal height. However, many of our "fixed-height" systems can be bolted together at heights lower than 10' if required.
Q: What kind of backboard should I select?
A: First Team offers a broad selection of backboards with each pole system. Backboards are available in tempered glass, clear acrylic, steel, alumium and fiberglass. Tempered glass is used for all competition boards like those found in high schools, colleges and professional arenas across the country. Our Response™ tempered glass provides the best ball rebound off the board. Look for the Response logo throughout this section to quickly locate packages that include tempered glass backboards. Acrylic backboards provide the look of glass at a more economical price level. Steel boards are vandal resistant. Aluminum and fiberglass backboards have an extra measure of rust resistance. Fiberglass also provides "glass-like" ball rebound, however, for authentic gynmasium ball response, no backboard compares to tempered glass.
Q: What effect does weather have on my backboard?
A: Almost none. All First Team backboards are designed to be weatherproof and carry full warranty even under the most extreme weather conditions.
Q: Is any one backboard more durable than others?
A: Because all First Team pole systems incorporate our unique "direct mount" backboard support design, no matter what backboard you choose, it is virtually impossible to crack or break the backboard when it is mounted to a First Team pole system.
Q: I am purchasing a basketball system for public use at a school, church parking lot, park, etc. The unit I want is only listed in the price sheet as a "Residential Basketball Package." Can I still purchase the unit?
A: Yes. However, First Team will NOT warranty any basketball package for an institutional application unless it is listed under the "Institutional Basketball Packages" section of the price list. The decision to purchase a unit solely listed as "Residential" for institutional use must be made at the owners discretion and risk.
Q: Is there a way to lock my adjustable basketball goal?
A: All First Team EZ-Crank goals can be locked into position by using our optional handle lock. See "Accessories" section for details.
Q: Can I relocate the unit if I move from my home?
A: Yes. All First Team EZ-Crank goals come with a built-in anchor system that allows easy pole removal if you need to relocate the unit. All other units require our optional ground sleeve to make the post removable. (Sleeves are available for square posts only) See "Accessories" section for details.
First Team® Basketball Warranty Information
Warranty Information:
All First Team products are warranted against manufacturers defects at delivery. Additionally, First Team warranties most products for a given period of time as stated in the literature. Below is and explanation of First Team's warranty levels.
Limited Warranty:
Covers any damage caused by normal basketball activity and normal player contact with the goal. "Normal basketball activity" and "Normal player contact" shall be described as any action that is necessary for participation in the game of basketball. Deliberate hanging on the rim, multiple player hanging, and vandalism are not covered under the Limited Warranty.
Superior Warranty:
Covers any damage or failure caused by any type of basketball activity or related contact with the unit. This includes deliberate hanging on the rim as well as multiple player hanging. The Superior Warranty does not cover vandalism.
Unconditional Warranty:
Covers any damage or failure that occurs for any reason. Any product carrying an Unconditional Warranty is exempt from the above stated limitations.
Any normal wear and tear caused by weathering or UV exposure is not covered under any First Team warranty. All painted items carry a one year limited warranty on coating.
First Team basketball systems listed solely under "Residential Basketball Packages" are warranted for residential use only! "Residential" is defined as a "single family dwelling." For a complete listing of basketball packages warranted for non-residential use, refer to the "Institutional Basketball Packages" section of First Team's price list. Under no circumstances shall any basketball package other than those listed under "Institutional Basketball Packages" be warranted for non-residential use.
Due to the abusive nature of amusement facilities, unless specifically agreed to in writing, First Team products carry no warranty except for obvious manufacturing defects when used in an entertainment facility where players pay a fee to use the equipment.