Infinity IT-8500 Plus Massage Chair
Save

8

%
Save

8

%
Original price
$6,499.00
-
Original price
$6,499.00
Description
The IT-8500 Plus is designed to give users all the features they need for a deep tissue therapeutic massage. Plus, the best-in-class spinal decompression feature provides a full body stretch second to none.

The IT-8500 Plus 4-Node back massage mechanism provides five different massage techniques as it travels down your back. It was designed to realign the spine with a Decompression Stretch, Waist Twist Therapy and Near-Flat Reclining S-Track that reaches true inversion. The ultimate in back relief following the s-curve of the spine moving up and down from the neck to lower back. Add in the Lumbar Heat to loosen tight muscles. Relax and enjoy your favorite music through the Bluetooth Speakers or play one of the SoothMe™ Sound Therapy nature sounds. Your aching feet will be happy when you try the Triple Roller Total Sole Reflexology foot massage at the end of a long day. You can even download the App and control the chair from your mobile device.

The IT-8500 Plus looks as good as it feels, and will bring the benefits of massage home.
Features
Massage Techniques Include:
Kneading
Tapping
Knocking
Shiatsu
Sync
Product Features Include:
Specifications
Chair Width: 36.00"
Chair Weight: 265.00 lbs.
Upright
Chair Length: 59.00"
Chair Height:46.00"
Reclined
Chair Length: 74.00"
Chair Height: 36.00"
Brochure
 Download IT-8500™ Plus Massage Chair Brochure
Owners Manual
 Download IT-8500™ Plus Massage Chair Manual
Quick Start Guide
 Download IT-8500™ Plus Massage Chair Quick Start Guide
Assembly Guide
 Download IT-8500™ Plus Massage Chair Assembly Guide
Videos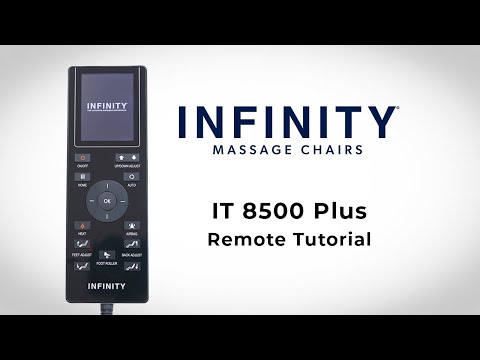 INFINITY CARE
5 Year Residential Limited Warranty
Unlimited USA-based customer & technical support
5 Year structural framework warranty
No-cost replacement on covered parts for 3 years
Complete Care/No-cost parts & labor (in-home, if necessary) for 1 year
Complete Care Warranty Period
For In - Home service, Infinity Massage Chairs will arrange all covered parts deemed necessary, to be sent to the consumer and, if necessary, an authorized service provider to repair the product at the customer's residence, at no charge to the customer. If a particular part is no longer manufactured, Infinity Massage Chairs may replace your product with a similar product. Under no circumstances shall the retail replacement value exceed the original net price paid for the product. In the event you choose not to accept a replacement for your product, Infinity Massage Chairs is no longer responsible for making repairs under the warranty coverage.
Any repairs needed during the 3-year parts warranty coverage, Infinity Massage Chairs will provide covered parts at no cost; however, consumer is responsible for any and all shipping, duties and brokerage fees. Structure warranty is limited to the steel and steel-welded parts of the frame, in addition to any wood structure that may exist. If a replacement is issued under the Parts or Structure warranty period, the consumer is responsible for shipping, duties, and brokerage fees related to the replacement. Infinity Massage Chairs, at its sole discretion, will repair or replace any defective part within a reasonable time frame. Field Service is only available in the United States and major metropolitan areas in Canada. Field Service requires pre-approval and, if necessary, must be performed by Infinity Massage Chairs-authorized field service personnel to maintain warranty coverage.
Warranty Exclusions
Warranties do not cover any loss or damage resulting from: improper installation; unauthorized repairs; use in a commercial or corporate setting; alterations or modifications of original condition; improper use of electrical/power supply; loss of power; electrical disturbances and power surges; dropped product, including but not limited to remote controls; a malfunction or damage resulting from improper use or unreasonable use or maintenance; failure to follow operating instructions; transportation damage; theft; abuse; misuse; neglect; vandalism; or environmental conditions(fire, floods, rust, corrosion, sand, dirt, windstorm, hail, earthquake, or exposure to weather conditions); loss of use during the period the product is at a repair facility or otherwise awaiting parts or repair; and products purchased or acquired from unauthorized dealers. This warranty is not transferable. Damage incurred due to shipping and handling does not constitute a defect under this warranty. Softening/hardening of foams and filling composites in pillows and pads does not constitute a defect under this warranty as those items naturally change with use. Fading, wear, and pilling of fabrics does not constitute a defect under this warranty as those conditions naturally occur with fabrics. Natural markings and grain and dye variations in leather do not constitute a defect under this warranty, as no two pieces of leather are alike. Failures of attach points, such as, but not limited to: stitching, Velcro, and zippers, do not constitute a defect under this warranty.
To initiate an Infinity Care Warranty claim, simply call our Customer Support Team at 603-910-5000.
10m 3s Type a message
---
Infinity Care PLUS: Covers 3 Years of Labor, 3 Years Parts, and 5 Years Frame - $399
Infinity Care Max: Covers 5 Years of Labor, Parts, and Frame - $599